In earlier times, the red tent was a retreat for women of many different cultures, where they spent the days of their bleeding (often together), exchanged knowledge of women and gave birth to children. It was a place of mutual support and care.
Unfortunately, these contexts have been lost, women are often lone warriors in everyday life, regular sisterly support is no longer a given. This is why important needs remain unsatisfied and may even overload the couple relationship.
On the other hand, there are several worldwide movements that want to bring the red tent back into the lives of women. When I first sat in a red tent years ago, I felt deeply nourished and touched. It soon became clear that I would like to start something like that myself.
Now the time has come and I am happy to invite you to the red tent once a month. Every woman is welcome as soon as she has had her first bleeding. Together we celebrate life and our femininity. We meet each other with affection, nourish our female bodies, tell about our lives and appreciate our experiences. We laugh, sing and maybe we massage each other's feet. We learn about age-old knowledge of women and strengthen our female roots.
The sacred space of the red tent creates a protected, loving atmosphere and invites us into our deep experiences. We learn to appreciate our very personal way of being a woman and at the same time experience support embedded in a sisterly group. Let the red sisterhood feed you!
---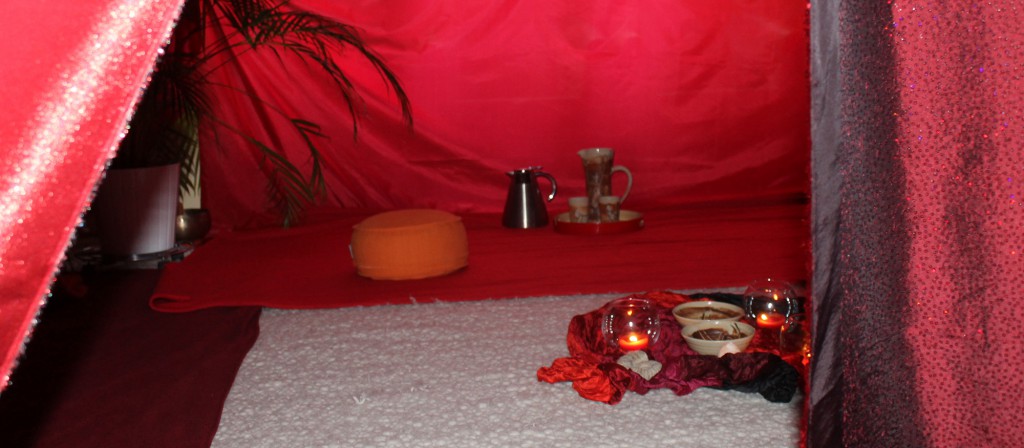 ---
---
---
Our Red Tent is part of "Red Tents In Every Neighborhood GLOBAL NETWORK". We are devoted to creating RED TENTS in every CITY, TOWN, VILLAGE & COMMUNITY!
Click here to connect to our Global Movement: www.deannalam.com